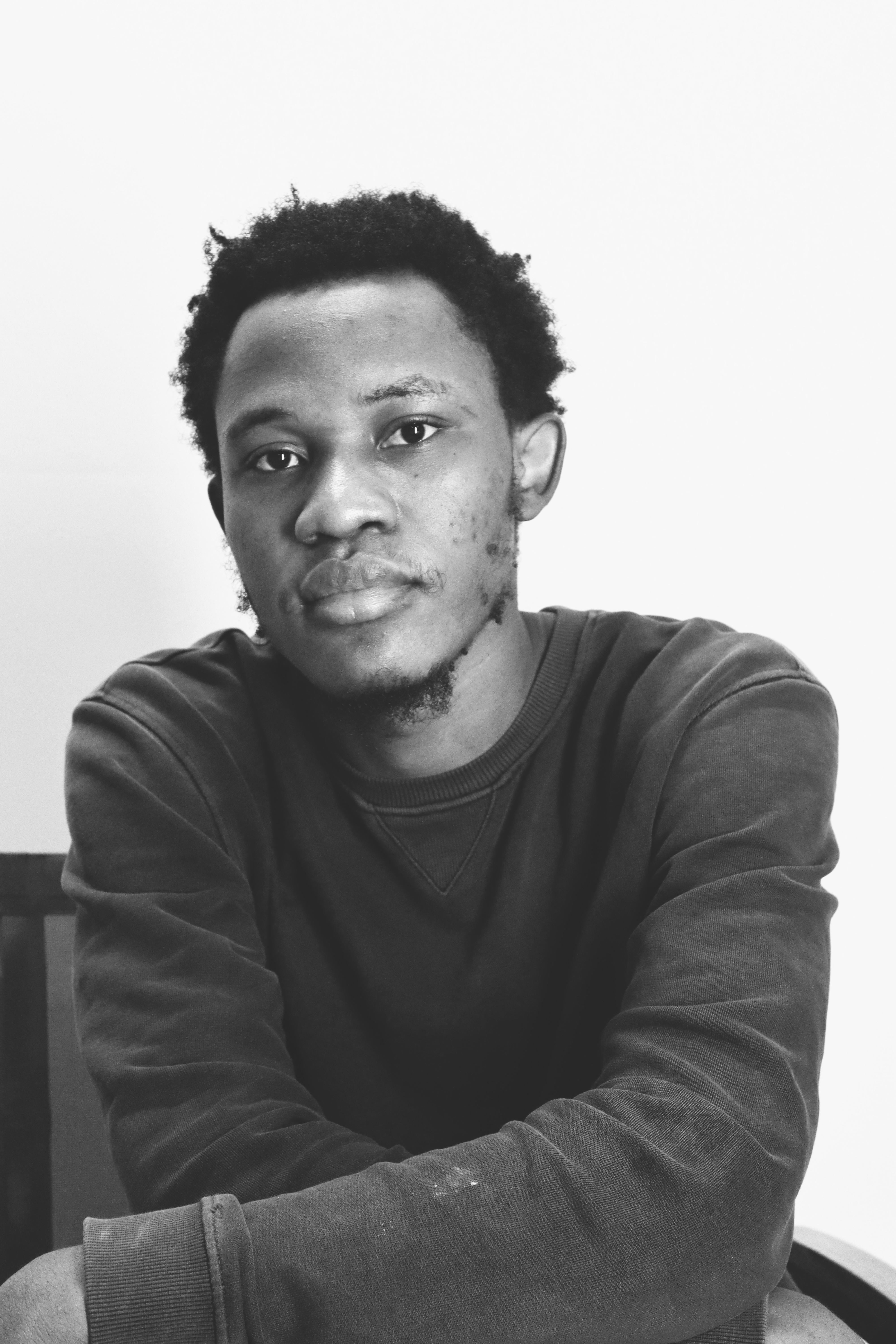 Ojingiri Oluwaseun Peter (b. 1997) is self-taught artist with a studio practice in Nigeria. Peter studied biology education at Kogi State University and began his self-guided, intuitive art practice in 2017 while finishing his undergraduate degree. His most recent work centers West African Folklore with Post- Colonial Theory within the realm of Blackness, unpacking critical themes that refer to a time in Africa before the colonial encounter. Peter brings a new and exciting depth to the figure, creating mask-like visages harkening back to cultural practices based in abstraction which lead to Modernist art movements of the Western world . Instead of hyperrealist faces and bodies that objectify blackness, Peter renders naturalistic features within traditional ritualistic masks that focus on expression rather than the materiality of skin and skin color.
Body of Work: The Departed and DisruptedIn the investigation of human development of individual identity, Ojingiri Oluwaseun Peter explores the emotional and psychological development within Nigerian society and the African Diaspora, before and after the colonial era, He transforms his subjects into traditional African mask-like forms to strongly identify their source of existence as an African. The paintings express conditions where the subject's identity is challenged by external societal factors: class,culture, religion, lifestyle, etc, which often results in the loss of, or the altered state of identity of a person. The work focuses on an internal battle, presenting the depicted subject's self evaluative process that questions who they are, who they aspire to be, and ever questioning what might happen if they become who they aspire to be the most, or fail. The subjects are termed the "confused ones", as a result of someone whose identity is broken, or lacking the ability to understand who they really are. Throughout the series, Peter is questioning if what was lost is worth recovering, or should it remain absent.
My work is centered around the intertwined fate of black people before and after Western contact. We had a system, history and culture before Western contact in Africa. I divide the historica happening of Western contact with Africa into two areas of phenomena the chattel slavery of the Trans Atlantic Slave trade dispersing Africas into the New World 'the departed", and those who were remained to live under colonialist regimes, 'the disrupted'. highlighting the traumatic loss of the identity as African. Within the Diaspora of the New World, many links to African culture were retained, but so much was also lost. while grappling with challenges of a new environment and an entirely different way of life. The departed refers to the loss of time away from home, and the fear they might not know, or remember their origins. The term departed symbolically refers to the forced, traumatic separation experienced by enslaved Africans that ruptured many connections to belief systems and culture. The departed want to learn and trace what they have lost, and the disrupted are also grappling with identity lost to the internalization of an opposing paradigm that does not serve them. I live in a society that has been in a state of disruption ever since the colonial encounter. A mindset based on an external paradigm that seeks to oppress African productivity and suppress the African World View, culture, and the individual agency found in identity, has been indoctrinated and internalized by much of West Africa. This paradigm promotes a belief system that presents our culture as inferior and taboo, while privileging whiteness over own existence. This is a systemic paradigm that promotes anything Western is the ideal, and anything traditionally culturally pejoratively considered "local". I'm striving unendingly to live outside of this disruption. I document this journey of mine to help those that are entangled in this disruption to become more conscious of history and traumatic experiential happenings, to engender healing. This series borrows from historical aesthetics of a pre colonial past, to narrate hope from a future stronger sense of self.
EDUCATION
2019 Bsc in Education, Major in Biology, Department of Biology Education Kogi State University, Anyigba
SELECTED EXHIBITIONS
2021 1-54 Art Fair, Dubai, Gallery 1957
2021 1-54 Art Fair, New York, Galley 1957 (Artsy Presentation)
2020 Collective Reflection, Gallery 1957, Accra, Ghana
2020 The Meduim Is The Message, UnitLondon, Mayfair
2020 Liminality Of Infinite Space, African Artist Foundation (Aaf), Lagos, Nigeria
RESIDENCIES
2022 Gallery 1957 residency
2022 Legacy brother virtual residency